We had a very exciting match yesterday afternoon between
iG and
nGu. The red demons stormed through the best french team in EGL this season with a 4-2. Will
iG win the EGL crown for 2 seasons in a row? or will there opponent
myR stop them from there path to victory. On the other hand,
KoD and
NgP will be played today at 14:00 EST (20:00CET) to determine who will move on to the semifinals and then match up with the korean team
aRi. This is the hardest qualifier, season, and play-offs we ever had in EGL's past. Now it's play-offs, only the survival of the fittest will survive and claim the crown of EGL Season 4.
Also, if you are one of the auto-qualified teams for next season or qualifiers make your team profile at WGS within this week!!! (Your roster does not have to be completed, we just need the team profile, but make sure it is before qualifiers!) After you create your team post your team ID (The number of your team) on this post:
http://nggl.8forum.net/general-discussion-f2/next-season-teams-t894.htm#4694
If you fail to do so your team will not be granted your auto-accepted spot. (All due May 17th)
EGL SemiFinals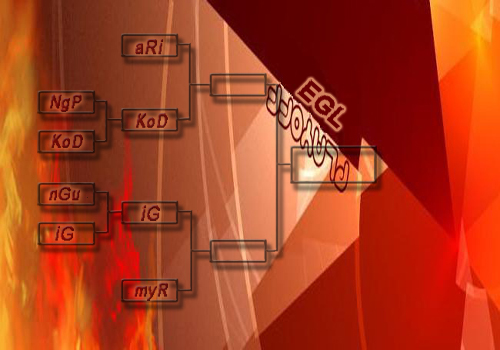 iG Vs
myR
KoD Vs
aRi
Code:

:denmark: iG [0-0] :germany: myR
:usa: KoD [0-0] :korea: aRi
Do Not Forget
-EGL Preliminary Starting Map is: Terenas Stand
-All the games are due by Sunday May
18th
2009 11:59PM EST
-Please have your matches scheduled by Friday May 15th 2009 11:59PM EST
-
If you can, please try to schedule your matches on Saturday, then a high chance of admin will be there for you, and PGS]Dronzer will be streaming on WTV if he is the Administrator of the match
-Teams if you are unaware of the rules please check up on them; admins are here to clarify and enforce the rulebook
-Do not forget to send your line-ups to
PGSeries@live.com
1 hour
before the war with the race indicated on roster
-You only have to only upload the replays you won so both team is responsible for getting which ever replays they won in uploaded
-
You CANNOT add anymore players now. Only managers, contacts, misc. can be edited from then on
-The amount of cards your team has for play-offs will be how many ever your team had left from season
-Replay Upload password : nggl (all lower case)
-Have good manners
-GL & HF