This week was originally scheduled to give all teams a bye and a week to make up all the forfeited matches, if any. We decided just to go with the play-offs starting this week since Play-Offs will last 3 weeks and once play-off is done with then we can receive application for the next season right away at June.
If you truly want to support this league then please take just 1 minute of your time to follow this link, log-in and just simple vote Yes on a poll, we appreciate all the support we can get.
Link: http://www.garena.com/forum/viewthread.php?tid=444907&page=1&extra=#pid4653906
We are also looking for administrators for the upcoming season, we will need all the support we can get to keep PGS's EGL and PGC running and our upcoming project if this all goes well. If you are truly dedicated for this job then please contact:
PGS]Dronzer @ korean4sho@hotmail.com
or simply download a
PGS Application Pack
at the Navigation Bar which contains a PGS Administrator Application. Fill it out, paste it on to a email towards,
PGSeries@live.com
. Administrator job gives something back to the community, the community that we all support. If you are seriously willing to do this then please apply, if you are just going to be a slacker, never does anything, just want to be part of something and will do absolutely nothing then Do Not Apply. Together we can make a successful league.
And getting to the main point, to congratulate the following teams for making the Play-Offs and also will be auto-qualified for the next season.
Division A
myRevenge
Never Get Pro
Infernal Gamers
Division B
aRirang
Never Give Up
Keeper of Destruction
Also for these following teams, they will be automatically be accepted to next season's Qualifiers
1.
Stofftiere-Online.wc3
2.
Infernal Cry
3.
Koxx eSports
4.
Vision + Ventrlio = Victory
(We decided to accept only 4, and these are the seeds in order)
Finally, about the play-offs, the top contestant of the respected division will receive a
Bye
round in the preliminary and start at the Semi-Finals. The contestant who placed 2nd and 3rd from each divisions will be playing in the Preliminary trying to reach the Semi Finals. For things such as the amount of cards, starting map, matches due, etc will be placed in the Do Not Forget section. A graphic bracket will be placed by Wednesday hopefully for everyone to view. Here are the matches for the Preliminaries.
EGL Preliminary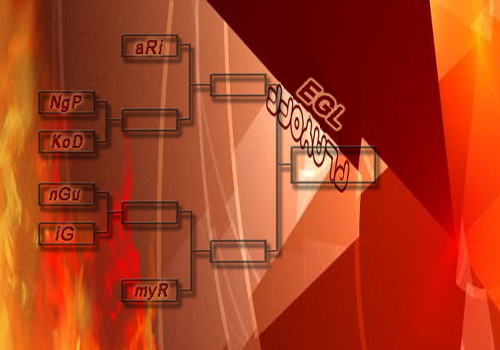 Bracket source:
www.icl-league.co.nr
done with permission
NgP Vs
KoD - Monday 20:00 CET // Monday 14:00 EST
iG Vs
nGu - Sunday 16:00 CET // Sunday 10:00 EST
Prediction Codes
Code:


:germany: NgP [0-0] :usa: KoD
:denmark: iG [0-0] :france: nGu
You can post that on our General Discussions, linked:
http://nggl.8forum.net/general-discussion-f2/play-offs-preliminary-t884.htm#4605
There will be a list of MVP of the season up soon in the general discussions board, watch out for that as well.
Do Not Forget
-EGL Preliminary Starting Map is: Twisted Meadow
-All the games are due by Sunday May 10th 2009 11:59PM EST
-Please have your matches scheduled by Friday May 8th 2009 11:59PM EST
-
If you can, please try to schedule your matches on Saturday, then a high chance of admin will be there for you, and PGS]Dronzer will be streaming on WTV if he is the Administrator of the match
-Teams if you are unaware of the rules please check up on them; admins are here to clarify and enforce the rulebook
-Do not forget to send your line-ups to
PGSeries@live.com
1 hour
before the war with the race indicated on roster
-You only have to only upload the replays you won so both team is responsible for getting which ever replays they won in uploaded
-
You may add players until May 6th, then on you CANNOT add anymore players after that date normal probation period will be in place. Only managers, contacts, misc. can be edited from then on
-Replay Upload password : nggl (all lower case)
-Have good manners
-GL & HF